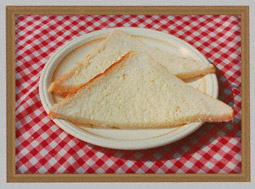 Untitled from British Food, Martin Parr, 1995. © Martin Parr/Magnum Photos
It's days like today, when I read about two new restaurant openings and the current Getty exhibit, that I miss living in Los Angeles. From April until August, the Getty Center is exposing the works of some of the first food photographers from the 1880s. A description of the exhibit
Tasteful Pictures
from the Getty website:
Food, from basic sustenance to savory repasts, awakens the senses. Drawn from the J. Paul Getty Museum's collection, this exhibition provides an overview of photographers' responses to this rich subject. Spanning the period from the mid-19th century until today, the images highlight important technological and aesthetic innovations as well as matters of taste.
NPR reveals some of Nickolas Murray's food photography dating back to circa 1930s. Some of his work can be found on the NPR
website
.